Foster City officials are seeking help from the county to address a long-standing problem in the city that is now being described as a health hazard: goose excrement.
"This is a public health issue," said Interim City Manager Dante Hall at a meeting Monday. "It's an issue the entire county should prioritize."
For as long as anyone can remember, large numbers of geese have congregated in the city's parks and open space. Their feces is both a health hazard and a nuisance for residents, officials say.
"It's very clear that geese and the excrement they release causes problems for us in high levels of bacteria," said Hall, adding tests of lagoon water in the city have routinely detected E. coli, which can cause severe illness and even death.
Hall also noted goose feces is a problem in other nearby cities, including Redwood City, San Mateo and Belmont. A report recently prepared by a consultant counted 181 geese in Foster City, 216 at the Port of Redwood City and 108 at Redwood Shores.
Widespread concerns about goose poop were reignited in Foster City recently after Erckenbrack Park was included in a list of the 10 most polluted beaches in California, published by the environmental advocacy group Heal the Bay, though it's unclear the extent to which goose poop is to blame for the pollution at that beach. Five other San Mateo County beaches were included in the list.
Concerns about goose feces have also intensified amid the pandemic as residents more than usual are spending time in the city's parks, said Councilwoman Richa Awasthi.
"People are not able to enjoy the parks and walk in them because of the goose poop," she said.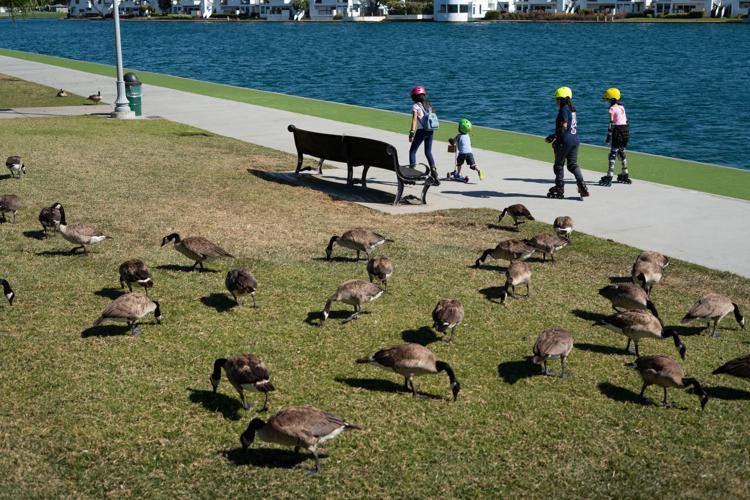 The city over the years has tried a variety of methods to mitigate the problem, including the use of herding dogs, egg addling and deterrent applied to lawns. None of the strategies have worked in the long term as the geese become conditioned to the preventative measures, Awasthi said.
So now officials are asking the county for help while simultaneously pursuing new strategies for mitigating the problem.
"We are advocating for a county solution on geese abatement," Awasthi said, adding County Manager Mike Callagy has expressed support for collaborating with the city on potential solutions. And a meeting with county supervisors has been requested, Awasthi said.
As discussions with the county progress, Foster City officials will continue to address the problem themselves. Awasthi said officials are considering installing a new type of fencing called orange cyclone fencing as well as pumping lagoon water more frequently to circulate the water and dilute the toxins in it.
"This is a long-standing issue and it won't be easy to resolve," Hall said.