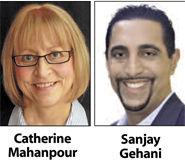 The Foster City Council Monday selected Catherine Mahanpour to be mayor and Sanjay Gehani to be vice mayor through 2020. 
Mahanpour was unanimously voted in while Gehani received a 3-2 vote for his new seat, with Councilman Herb Perez and Councilwoman Richa Awasthi in opposition. Perez initially nominated Awasthi to be vice mayor, but the proposal was voted down.
Mahanpour replaced Sam Hindi, who has served as mayor for the past two years, and Gehani replaced Perez as vice mayor. 
Without attributing blame, councilmembers described politics in the city as "toxic" and "challenging" in 2019, hoping that the upcoming year would bring about change. Some of those sources of contention include disagreements over the effort to recall Perez and Gehani's violation of the Brown Act, both of which have been the subject of raucous meetings in the council chambers. 
As mayor, Mahanpour suggested she would restore civility and order during council discussions.
"While I'm mayor, I will expect us as a council to listen to [the public] with respect. Our meetings and deliberations with each other will be open, with opinions given freely, but respectfully without insults thrown at differing opinions," she said. "Our meetings will be run more efficiently with discussions staying on topic."
Gehani thanked Hindi for his leadership during a "tough year," adding that he looks forward to "continued engagement and collaboration through this next year as we take Foster City to new heights." 
Looking to 2020, Mahanpour said many important projects will be started or continued then, including levee improvements, the wastewater treatment plant, infrastructure improvements and traffic programs, to name a few. She also mentioned the ongoing challenge of the housing affordability crisis and the role that new state laws will play in the city's decision making. 
"We also face the housing crisis and legislation from the state forcing us to make decisions we may not want to make," she said.
While the role of mayor and vice mayor is largely ceremonial, the selection process has been controversial in the city. Last year, many residents felt Mahanpour should have been selected mayor then and were upset to see Hindi serve a second consecutive term and to have Perez, who had previously served as mayor, be vice mayor. But this year, at least within the council chambers, the picks were met only with loud applause. 
Awasthi said she will continue to hold herself and her colleagues to "higher professional and ethical standards" in the coming year.
"Taxpayers expect more from us. They don't want to see dysfunction and discord in the council," she said. "Having a council that functions well, collaborates, has respectful discourse, has the highest levels of ethics and honesty are primary and minimum requirements. I'd challenge us to go above that."
Despite the political drama, Hindi said the past year has been productive and applauded city leaders for creating workforce housing, ensuring the city remains fiscally strong and for addressing traffic congestion by implementing the Traffic Relief Program, among other accomplishments.    
"It's been an honor and privilege to be your mayor and I look forward to another productive year under the leadership of Catherine Mahanpour," Hindi said, adding that 2020 will be "hopefully harmonious."