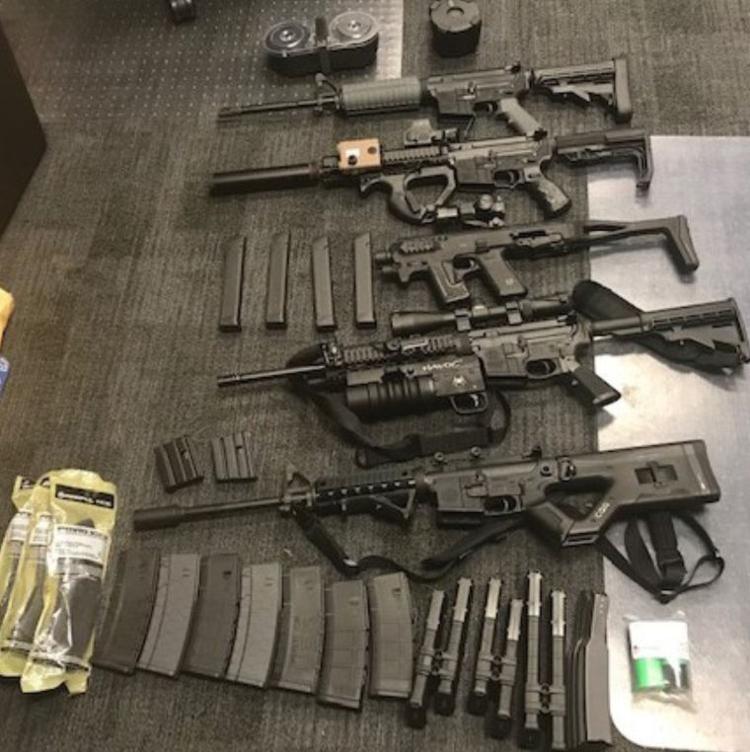 A Foster City man has been charged with 18 felonies for possessing illegal firearms after police raided his home and confiscated the weapons in June, according to San Mateo County District Attorney Steve Wagstaffe. 
Joseph Holmes, 41, was booked into San Mateo County Jail July 25 on $750,000 bail. Holmes was found in possession of various assault weapons, including a Glock 17 with a Micro Roni conversion kit, two Palmetto State Armory rifles, a Sig Sauer SIGM400 and Smith & Wesson MP-15; as well as a silencer, grenade/flare launcher without a permit and multiple Glock conversion kits, which can convert a gun into a machine gun, according to the complaint. 
Holmes was also charged for illegally selling or transferring a firearm and for manufacturing an assault weapon, according to the complaint. 
Wagstaffe added that Holmes was in possession of over 1,000 rounds of ammunition.
Holmes was initially arrested and released June 20 after crews with the Contra Costa County Anti-Violence Support Effort (CASE) found the illegal firearms in his home following an investigation. The investigation began earlier in the year after CASE received a tip that a person had purchased Glock conversion kits.   
Holmes' arrest prompted the Foster City Council to implement ongoing safety measures during meetings, including metal detectors and an increased police presence. Some residents welcomed the heightened security, but the new protocol was also controversial among others, who described them as unnecessary and even political. 
Those residents have been critical of the council and felt the security measures were implemented to paint them as a threat.
Ken Wine, an attorney representing Holmes, said his client is a family man with two small children and a collector who purchased the weapons on the internet for self-defense. 
"There's no evidence of an intent to commit harm to anyone and these guns were found in a gun safe," Wine said. "The intent was for the guns to be used solely for his own and his family's protection." 
Wine said Holmes believes the guns found in his home are legal, and suggested needlessly complicated gun laws are to blame for his arrest.
"As the law stands now, there is a confusing and extremely complicated set of rules and regulations distinguishing a legal firearm from an illegal one," he said. "That should never be the case. … The reality is unfortunately the law is very vague and does not give clear guidance to gun owners, but it sure should." 
Wine added that none of the guns in Holmes' collection, even with the modifications, could actually operate as machine guns as far as he knows.
"Unfortunately for not only Mr. Holmes, but for millions of Californians with semi-automatic rifles, the state considers almost any modification as turning a legal gun into an illegal one," Wine said.
He also claimed the silencer was inoperable and the aforementioned grenade/flare launcher only fires flares that can be purchased at a Big 5 Sporting Goods store, for example. 
"Holmes is a collector, he likes them, he doesn't shoot them," Wine said. "It makes people in California nervous, but the average gun owner [in the United States] has eight guns so this is not a large collection for gun owners. Gun collecting is a well established and proper hobby throughout the country and for better or worse that's the reality."