With bookshelves, rows of computers and a small open activity space packed inside the 3,200-square-foot Fair Oaks Branch Library, it may be tough at first glance to imagine the small rectangular space as host to a wide array of activities and residents living along the county's southern border.
But if the 64,000 people believed to have visited the library last year have anything to say about it, the size of the Redwood City library branch at 2510 Middlefield Road isn't much of a deterrence.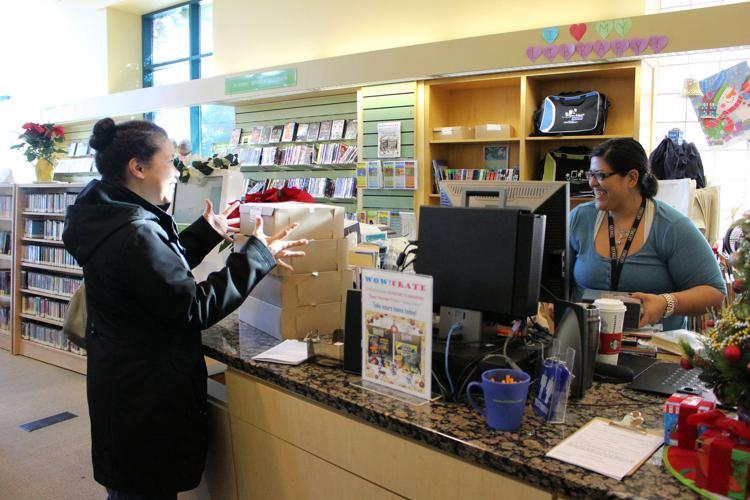 Whether preschoolers are listening to story time or elementary and middle school students are studying or hanging out in groups after school, librarian Maria Diaz-Slocum knows how quickly the space can be filled.
"There are times when we really don't have room at all," she said. "It's like every little area is taken up."
Which is why the library is due for a renovation as well as 600-square-foot expansion, which Derek Wolfgram, the Redwood City Public Library director, said are set to take shape in early 2018.
Though Wolfgram acknowledged the expansion isn't large, he said it would allow the staff to reconfigure the space to host the children's programs and events well attended by its patrons, many of whom are from the North Fair Oaks neighborhood in unincorporated San Mateo County. Because residents in the southern part of the county are separated from other libraries Redwood City operates by major thoroughfares such as Woodside Road, Wolfgram said the Fair Oaks Branch Library has become a gathering space for seniors, students and residents of all ages hoping to learn, play and participate in activities.
"There's really limited space for that now," he said. "Being able to deliver those services right in the neighborhood would make a difference."
Moving staff offices currently located behind the long, rectangular space into a conference room previously operated by the county's Human Services Agency, with whom the library shares a building, will make way for much-needed resources such as a dedicated space for teens, said Wolfgram.
He said a new play area designed for young children learning how to read and the addition of an interactive wall with a farmers' market truck design are also expected to bring the resources offered at this library in line with those offered at other branches, such as the Redwood Shores library.
But the most important change expected with the new library, Wolfgram said, would be the ability to move furniture and shelves around to accommodate the variety of programming patrons have come to expect at the library.
For Redwood City resident Nipun Jethi, trips to the library are part of the routine he and his 4-year-old daughter Nya have developed. Between the dance classes she takes at Redwood City's downtown library and their weekly trips to the Fair Oaks Branch Library to choose books to read, Jethi said their schedule in the hours when she's not at her half-day preschool are packed.
"The library resources are kind of critical for the kids," he said. "That's really what makes her schedule."
For San Mateo County Supervisor Warren Slocum, working with partners like Wolfgram to provide services for the North Fair Oaks residents in his district as well as Redwood City residents has been a successful model. Slocum, who is married to Maria Diaz-Slocum, noted that many students who live nearby come to the library as a safe space after school.
"Many, many people from that community use that library … it's more like a community center in some ways," he said.
Diaz-Slocum said the library can become noisy when students fill the seats at the computers after school, and that the library is able to loan mobile devices to them to help them with their studies. She said she is looking forward to offering a dedicated space where teens can play games or work on homework assignments, and said improvements to the technological resources available to them will better meet their needs as well.
"It's where we need to go because everything's digital," she said.
Wolfgram said the city is contributing $141,000 toward the improvements with contributions from the Latino Community Council of Redwood City, Kaiser Permanente and the Palo Alto Medical Foundation. Deputy County Manager Peggy Jensen said $500,000 in Measure K funds would be requested for the project at the San Mateo County Board of Supervisors' Jan. 9 meeting.
Though Wolfgram and Slocum expressed interest in creating a new facility for the branch someday, they have yet to identify the funding sources and land for such a project.
Wolfgram said the library would be closed for three to four months once construction begins in late February or early March, and that a smaller space in the Fair Oaks Community Center at 2600 Middlefield Road would hold some of the library's more popular items and be available for activities in the interim.