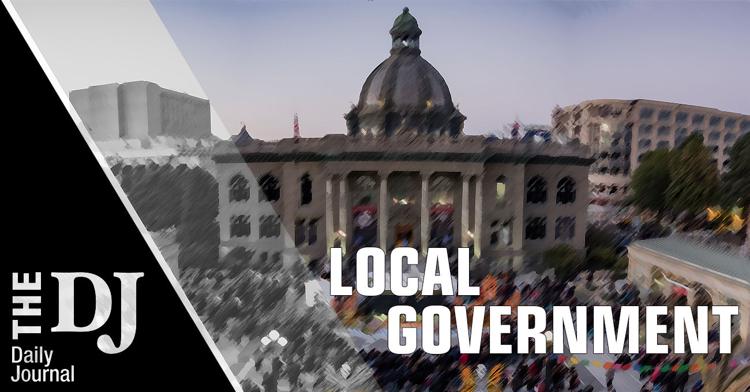 Though a boom in construction projects may be boosting the housing and office stock in cities across the Bay Area, for San Carlos, it is creating a notable uptick in sales tax revenue.
Home to more than 130 building and construction businesses largely clustered in industrial zones on the city's east side, San Carlos has seen the benefits of a steady stream of construction projects, with revenue from fourth quarter sales tax up nearly 21 percent in 2017, according to a spring 2018 report compiled for the city by HdL Companies.
Though San Carlos businesses have seen year-over-year growth across many industries in recent years, Martin Romo, the city's Economic Development and Housing manager, acknowledged last year's fourth-quarter surge was driven by the growth in the city's second-highest generator of sales tax revenue, its building and construction industry.
Jumping from $675,834 in the last quarter of 2016 to $818,202 in the same period of 2017, the building and construction industry's sales tax revenue growth dwarfed that of the city's leading sales tax generator. Garnering more than $1 million in the fourth quarter of 2017, the city's business and industry category only grew some $10,000 compared to the previous year, according to the report.
Romo said new building and construction suppliers to join the wide array of wholesale electric, plumbing, lumber and marble businesses, among others, in the city has played a role in the uptick, alongside good weather and a relatively stable housing market buoying construction projects in recent months. But he said sales receipts across industries in the city have been strong as San Carlos has gained recognition as centrally-located hub for building and construction supplies and the biotech industry.
"It's just been really kind of a positive year overall," he said. "There wasn't a lot to drag that number down."
Romo said a slate of biotech office projects proposed for the east side are a sign of growing interest in San Carlos, and may bolster the city's revenue as they come online. Though the new projects are expected to boost sales tax revenue, they are also likely to contribute to the city's property tax revenue, he said. Depending on how businesses in the city make sales on products and services, the taxable portion of their revenue may be distributed back to the city through state and county pools, explained Romo.
The surge comes at a time when officials have been focused on exploring new revenue streams and strengthening existing sources. In an April budget discussion, City Manager Jeff Maltbie pointed to the city's comparatively low tax rate at the time of Proposition 13's passage in 1978 as a reason why the city has been more reliant on less predictable sources of revenue such as licenses, permits and business taxes.
Accounting for just under 28 percent of the city's revenue in 2017, the city logged $10.8 million in sales tax money, an 8.4 percent increase over the $9.9 million recorded in 2016, according to the city's comprehensive annual financial report for 2016-17. Officials are predicting city businesses will generate $10.8 million in sales tax revenue in 2018 and $11.3 million in 2020, according to an April 27 staff report.
Though the city has logged surpluses of up to $3 million in recent years, officials have set their sights on an effort to ask voters whether to increase the city's hotel tax from 10 percent to 12 percent on the November ballot as one among others that can bolster the city's ability to fund projects like sidewalk repairs and prepare for an economic downturn.
Romo said the city's diversified economic base has allowed it to weather the most recent recession, and will also help stem the effects of the growing momentum behind online sales. Though he acknowledged the recent growth in the city's sales tax revenue is subject to change depending on shifts in the construction industry, Romo said officials are hopeful an influx of new companies into the city will continue its upward trajectory.
"Of course, building and construction is pretty hot at this time," he said. "There's been a lot of new activity in the course of the last year and I think that's probably a trend that might continue in the near future."