Rock climbing will be an Olympic sport in the 2020 Tokyo games and, as it grows in popularity, several young Peninsula climbers are drawing national attention for their accomplishments.
Jake Scharfman, 18, of Menlo Park, Ross Fulkerson, 16, of Portola Valley, and Connor Herson, 14, of Redwood City, all earned top marks in the USA Climbing Bouldering Nationals in Salt Lake City in early February, which saw nearly 500 competitors ages 9 to 19. Fulkerson came in first for his age group, while Scharfman and Herson finished fourth. All three were invited to the 28-member youth team that will represent the United States in international competition this summer.
Fulkerson, who attends Design Tech High School in Redwood Shores, also won the prestigious Young Gun award this year, an annual award sponsored by North Face that recognizes young role models in the climbing community. He is also a contender for a spot on the U.S. Olympic team in two years.
Beyond bouldering, the three teens are also accomplished in other rope climbing disciplines, including lead climbing, in which climbers have a belayer and clip their rope into bolts as they go, and sport climbing, which relies on fixed anchors attached to the rock.
Fulkerson is a member of the national youth team in rope climbing and reigning Pan American champion in sport climbing, among other achievements. Herson, who attends the Keys School in Palo Alto, has also made the national team for rope climbing.
Bouldering, by contrast, does not involve a rope or harness, and typically refers to climbs 20 feet or under, with just a mat for protection.
In the Salt Lake City bouldering competition, climbers are given as many attempts as they need within four minutes to climb a route, known as a "problem," which they're not allowed to see before the clock starts. Whoever climbs highest in the fewest attempts is the winner.
Herson said he likes to spend about 30 seconds just visualizing and planning his climb before making his first move, but some climbers will spend up to a minute or more planning their path.
Bouldering, in many ways, is like solving a puzzle and, for each of the young climbers, much of the sport's appeal lies in the endless variety and unpredictability of those puzzles, or "problems."
"Climbing is a different head game and puzzle everywhere you go," Fulkerson said. "Many climbers are engineers. It's all about solving how you do the climb, the sequence of the climb, where you put your hands and feet, and you often have to work backwards to figure out how to get to the top."
"I don't think I'd be half as intrigued in climbing if the walls were always the same," he added.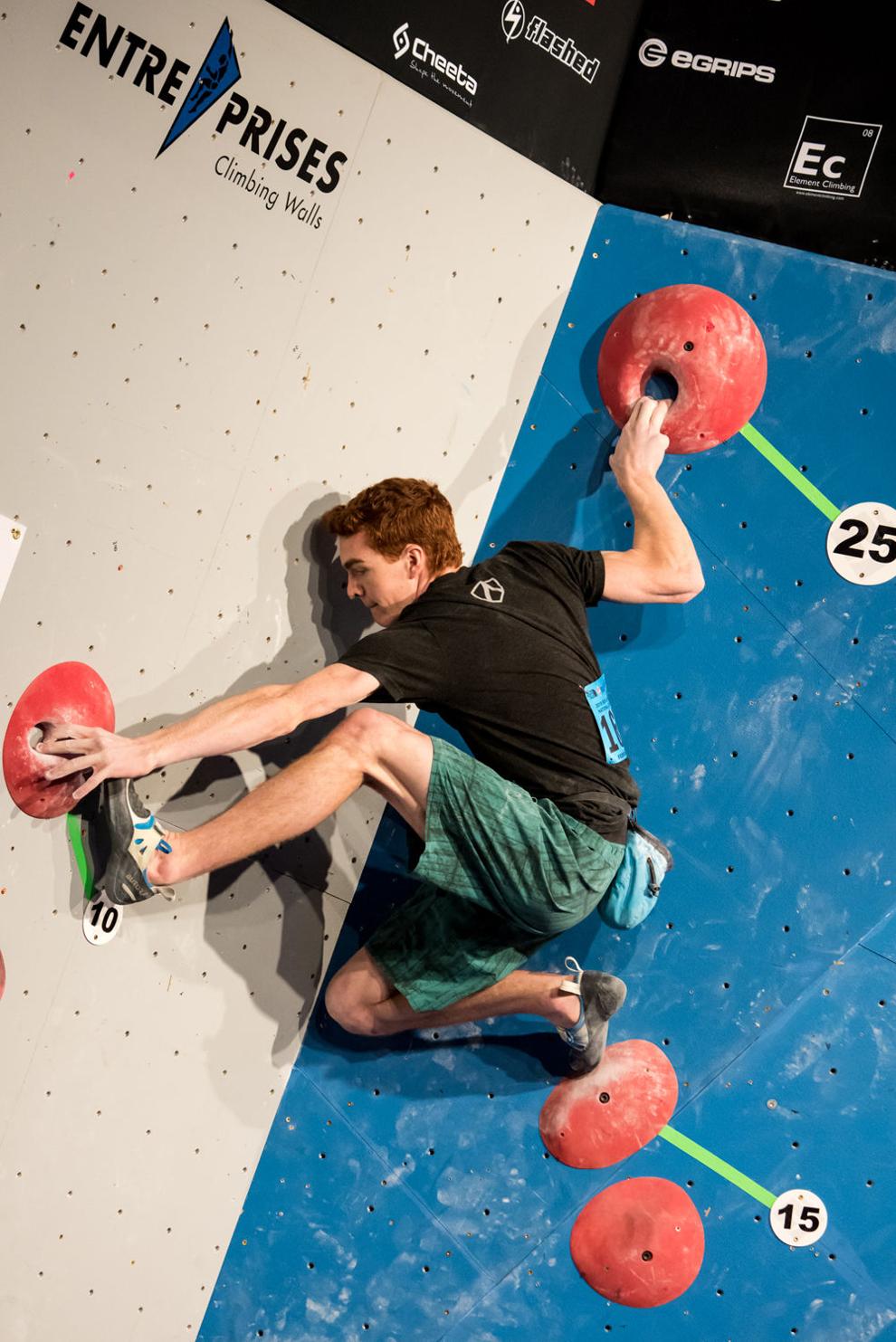 To master these "problems," climbers will sometimes have to lift their entire body with one arm, jump from hold to hold 15 to 20 feet in the air, or stand on tiny cracks the width of a credit card.
It goes without saying that climbing at this level requires a great deal of passion and dedication, and climbers often begin at an early age.
Herson started climbing at age 4 when his parents, both longtime climbers, brought him along to climbing gyms when they practiced. Last year, Herson and his father scaled El Capitan in Yosemite, which they completed in 13 hours.
Fulkerson began seriously climbing when he was 8 years old after he attended a birthday party at a climbing gym. A coach, who worked at the gym, saw Fulkerson's potential and encouraged him to join a summer program.
Scharfman started climbing around age 13, after his uncle exposed him to the sport.
"I used to be an avid skier and I played basketball, but that stopped happening once I started climbing," he said. "It took over my life for the best."
Long hours, many challenges
These young men have to balance the demands of training with school. They each log about 20 training hours a week after school and on weekends, sometimes together.
Training of course involves climbing, but also CrossFit, yoga and extensive breathing and stretching exercises. Fulkerson sometimes lies on his back and pantomimes movements or videotapes climbs to analyze his technique, and Herson will climb without using his feet to strengthen his arms and hands.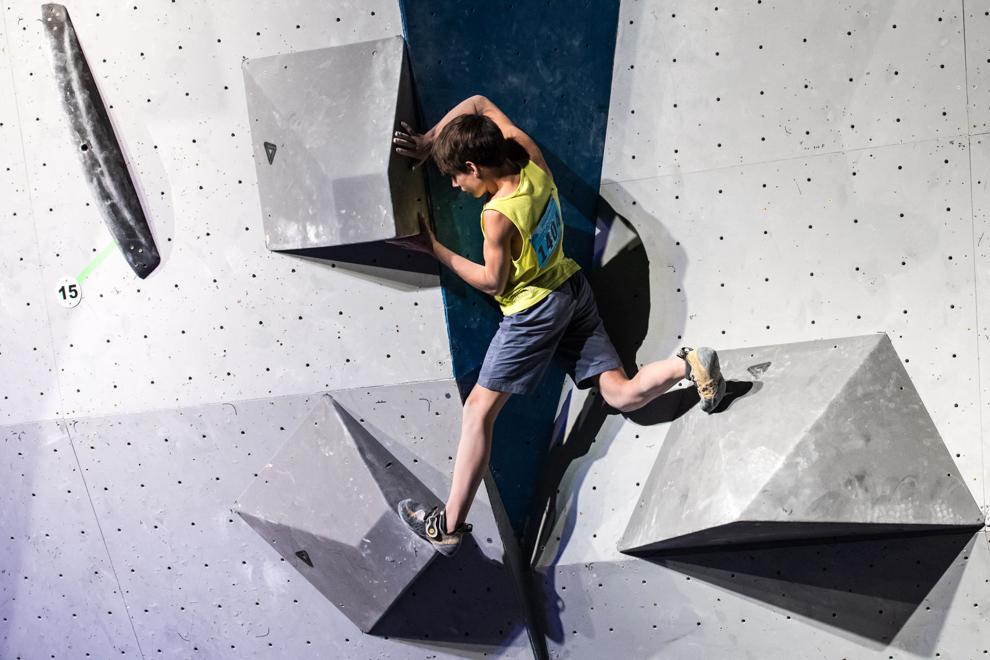 "It takes a lot of experience and dedication; really putting that time in, getting more and more comfortable with my body as a climber and being aware of how my body works," Fulkerson said. "It's a sport that takes a long time to get good at."
The teens also emphasized the psychological demands of the sport. Scharfman, who has climbed boulders as high as 55 feet without ropes and cliffs hundreds of feet high with ropes, said one of the most challenging climbs he attempted was a 12-foot-high boulder overhanging 45 degrees with holds only an eighth of an inch or less from the wall. He said he made hundreds of attempts trying to complete a sequence of about five or six moves.
"Climbing has some obsessive aspects to it," he said. "I go through stages of emotion trying to do a problem that many times. When I've walked away from a problem it's not a good feeling, but at times the rock cuts your skin and you can no longer try and your muscles are dipping out and you can't really pull anymore. You have to walk away and tell yourself there's another day, but it's tough to let go of those feelings and realize its just a hunk of rock sitting in dessert and not important. You get attached."
For these young climbers, the sport's appeal extends well beyond rock formations and practice gyms.
"I've tried half a dozen sports pretty seriously and there's no community like the climbing community," Scharfman said. "It's the tightest-knit, friendliest community, even as a beginner. There's something about climbing that fosters a brotherhood I haven't found anywhere else, and the longer you spend in the community the more you realize how special it is."
A testament to that sense of community, Fulkerson said it's not uncommon to climb and train with professionals in the field, including Kevin Jorgeson, who coached Fulkerson when he was younger. Jorgeson and his partner, Tommy Caldwell, made headlines in 2015 after becoming the first climbers to scale with ropes the Dawn Wall of El Capitan in Yosemite National Park, one of the most difficult climbs in the world.
"I climb and train with professional climbers and compete with them and that's one of the most unique things about climbing," Fulkerson said. "That constantly inspired me to grow and it makes it seem more attainable to be on their level.
"Even a basic climber can be an inspiration because everyone has a different way of moving and has strength in different places," he continued. "I can tell a pro climber 'hey try this' and that always helps."
The various climbing disciplines are seasonal: bouldering competitions wrapped up with nationals last month, and rope competitions will begin this week.
In the coming months, the three climbers will continue training. Herson has his mind on the world championship this summer, which all three plan to attend.
Scharfman will be moving on to college next year, but he's only considering schools with a climbing gym and outdoor climbing access, while Fulkerson is deciding if he wants to commit to tryouts for the Olympics in 2020 — he'll have to leave school and devote the next two years of his life to rigorous training.
"Hopefully I'll climb the rest of my life, but we'll see in what capacity," he said.