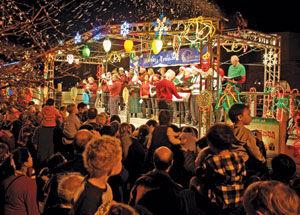 The Caltrain holiday train is this weekend Saturday, Dec. 7, and Sunday, Dec. 8, and will stop at nine locations for 20 minutes where people can join onboard carolers and the Salvation Army Christmas Brass Ensemble, along with Santa, Mrs. Claus, Frosty the Snowman and Rudolph the Red-Nosed Reindeer who will get off the train to greet kids and pose for photos, according to the transit agency.
The train is decorated with more than 75,000 glittering lights and families can enjoy free entertainment at each stop. In addition to offering families free holiday fun, the Holiday Train offers an opportunity to donate new toys or books to local children whose families are struggling to make ends meet through a partnership with the U.S. Marine Corps Reserve Toys for Tots program and The Salvation Army.
The Holiday Train Schedule for Saturday, Dec. 7, is: San Francisco, 4 p.m.; Burlingame, 5:25 p.m.; Redwood City, 6:10 p.m.; Mountain View, 7:25 p.m.; and Santa Clara, 8 p.m. The schedule for Sunday, Dec. 8, is: San Francisco, 4 p.m.; Millbrae, 5:20 p.m.; San Mateo, 6 p.m.; Menlo Park, 7:05 p.m.; and Sunnyvale, 7:50 p.m.