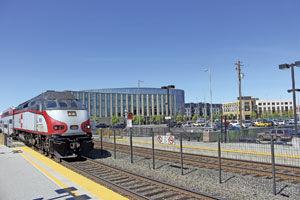 Caltrain's Hillsdale Station will close for about six months starting in spring of 2020 rather than in December of this year, which was the previous plan. 
The closure is part of the 25th Avenue Grade Separation project and the new timeframe is due to delays in the relocation of fiber optic cables. The new and improved station will be located at East 28th Avenue and is expected to open in the fall of 2020. It will feature a more convenient center-boarding platform, additional improved shelters and more amenities than the old station, according to a press release. 
During the closure, Caltrain service will be redirected to the Belmont station. A shuttle will transport riders from the Hillsdale station to Belmont, though a schedule has yet to be determined, and SamTrans ECR line comes down El Camino Real about every 15 minutes. Caltrain will provide alternative route maps for riders who wish to connect to other stations as the closure date draws closer, according to the release.
While the Hillsdale station is closed, the Belmont one will enjoy Baby Bullet as well as the limited stop service that it currently gets, which means the station will see about four trains per hour during the morning commute and about three trains per hour in the evening commute, according to Caltrain. 
Upon completion of the 25th Avenue Grade Separation Project in the spring of 2021, pedestrians, bicyclists and drivers will enjoy a safer and more accessible east-west connection in San Mateo, the release states.