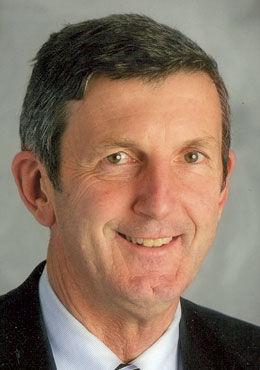 Police and education officials are searching for the person, or people, who scrawled homophobic, racist and anti-Semitic graffiti last week at Burlingame High School, officials said.
Grounds crews discovered the spray-painted hate speech early Thursday, Sept. 5, which was tagged overnight on windows and walls in the student quad, said Burlingame police Lt. Laura Terada.
While no arrests have been made, and no surveillance footage of the incident exists, Terada said investigators are following up on leads which she is hopeful will give way to an arrest.
"We have some very good leads and hopefully we will be able to get an arrest out of it," she said.
Kevin Skelly, superintendent of the San Mateo Union High School District, expressed his dismay over the vandalism Terada estimated to have caused as much as $1,300 in damage to school property. The graffiti was covered up immediately and has since been painted over.
"This is not who we aspire to be and it's hateful stuff, so we are going to do everything we can to figure out who did it," said Skelly, noting a reward was offered to those with information which could lead to an arrest. Terada said charges could be filed for felony vandalism and a hate crime for protected classes.
Skelly, who has nearly 40 years of working in education, characterized the tagging as the worst he has ever encountered at a school.
"The kids are outraged, I'm outraged and the folks of Burlingame are outraged," he said.
As a sign of solidarity with those targeted, the Burlingame High School community hosted a lunchtime rally Tuesday, Sept. 10, when students were encouraged to wear the school's color and create posters to be displayed across the campus showing unity against intolerance.
Looking ahead, Skelly said administrators and teachers are planning further discussions about the incident and considering bringing in experts to examine the issue as a school community.
The incident is not isolated, as Terada said a Burlingame High School student's locker was reported in April to have had anti-Semitic messages scrawled across it as well.
Terada said police do not consider the incidents a trend, but that does not lessen the severity of the issue.
"In any case that someone is targeted, or a specific group is targeted, we take that seriously," she said.
For his part, Skelly considered the attack on the campus especially egregious.
"I don't know who did it, but they picked a school. People pick young people to attack on this stuff. I think there's a reason, it's because the future is in the hands of kids," he said.
Considering the magnitude of the incident, Skelly said he considered it an affront to the entire school community.
"It's an attack on civility and decency and all of us," he said.