The heat wave that hit the Bay Area over the weekend peaked Monday — the hottest day of the year so far — and temperatures will gradually drop back down to normal throughout the week, according to a weather official. 
Temperatures reached 101 degrees in Redwood City Monday and they're expected to drop to 91 degrees Tuesday, said Steve Anderson of the National Weather Service. He expects temperatures to cool off by about 10 degrees Wednesday and settle back into the normal mid-70s range by Friday and through the weekend. 
"Stay cool and relief is in sight by the end of the week," Anderson said.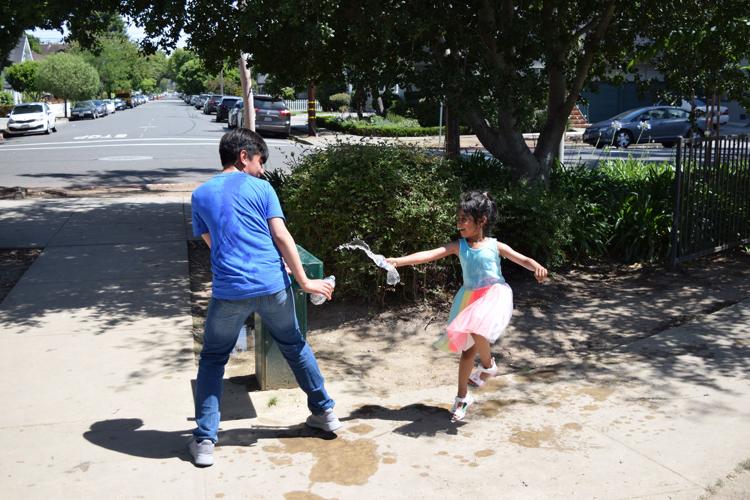 Half Moon Bay, by contrast, was slightly cooler Monday at 89 degrees and temperatures are expected to drop to the high 60s by the middle of the week. 
Parts of the East Bay reached 102 degrees Monday, the North Bay saw 101-degree weather, it was 100 degrees in San Jose and San Francisco clocked in at 97 degrees. 
"We have a large area of high pressure right on top of us and it turns off the afternoon sea breeze, which is what keeps our temperatures moderate throughout the year," Anderson said. "With that natural AC turned off, the temperatures warm up."
The weather service extended a heat advisory through Tuesday because of widespread highs between 95 degrees and 105 degrees, bringing an increased risk of heat-related illnesses. The weather service urges residents to stay hydrated, wear bright colors and stay out of the sun if possible, to not leave children or pets in vehicles and to beware of rip currents when at the coast. 
A spare the air alert, the first of the year, was issued Sunday and Monday in the Bay Area and it will stay in place through Tuesday at least.
"Exhaust from vehicles on Bay Area roads accounts for more than half of the air pollution in the region," according to the Bay Area Air Quality Management District. "Residents are asked to drive less to reduce smog and improve air quality in the region."