As residents in San Mateo and the Peninsula struggle with housing shortages, companies like Abodu are selling small, detached housing units for the backyards of single-family homes as an alternative solution.
"There are enough good things happening in this industry that we believe the long-term vision is, homeowners will have an accessory dwelling unit in their backyard or on their property, period," Abodu co-founder John Geary said.
An accessory dwelling unit, or ADU, is a detached living space in the backyard of an existing home that typically has one bedroom, bathroom and kitchen space. It provides housing to an older person looking to downsize and live with family or young people looking to rent their own space. Getting an ADU is largely driven by family or cost, with some owners looking to use their space to have elderly family members move back in or from homeowners who want to maximize space and rent it out to pay their mortgage. Abodu, based in Redwood City, provides ADUs to homeowners in the Bay Area as a cheaper solution with a more straightforward regulatory process to build housing units that address the Bay Area housing crisis. Founded in July 2018, it is taking advantage of recently passed state laws like Assembly Bill 68 to assemble ADUs, which eases regulations during the permit process.
Opportunity in the state
Geary believes the significant scarcity of housing in the Bay Area combined with fewer regulatory processes will make these housing units a growing trend among homeowners. The process for building residential housing is different in each city and county, while the framework for approval for an ADU is standardized across the state, which means you can take an ADU to every single city in California, Geary said.
"With ADUs, regardless of where you are in the state of California, it is the same framework. As long as you are X square feet, as long as you are below Y height, as long as you have a kitchen and a bathroom, it will be approved," Geary said.
He cites Vancouver as a potential example, where he says 35% of single-family homes have an ADU on the property after only being legalized 20 years ago.
"California is at 1%, if that, so it's nowhere near that, but you can look to parallels and say, hey, if we start creeping along that 35% curve like Vancouver, there's a really big opportunity here to add housing units across the entire state," Geary said.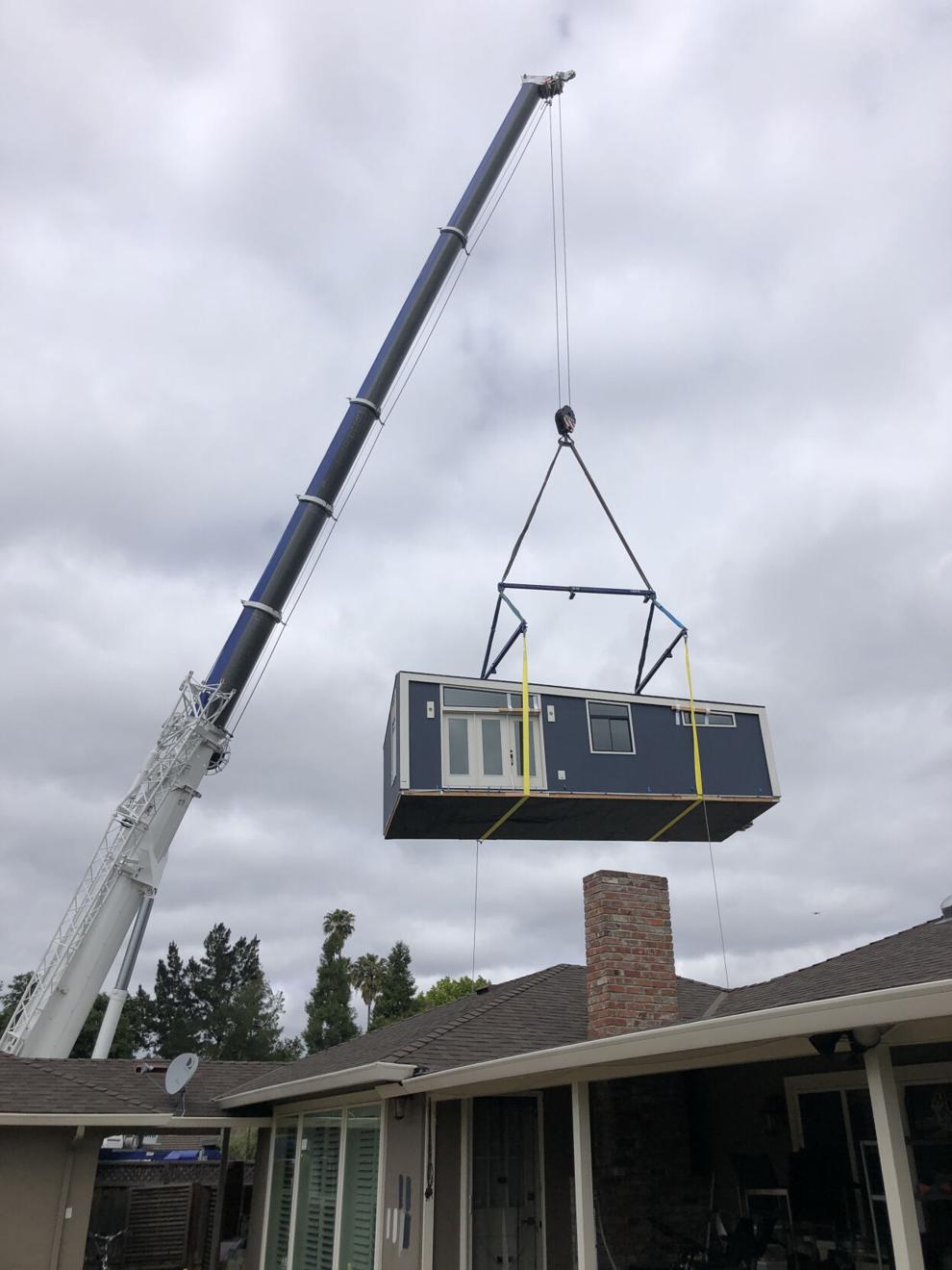 Options
The company has a showroom at its Redwood City location that includes prebuilt ADU options where people can tour the inside of a fully furnished unit. The three options currently available to buy are the Abodu Studio at 340 square feet starting at around $189,000, Abodu 1 at 500 square feet at around $199,000 and Abodu 2 at 610 square feet for $259,000. The average cost for a homeowner for the unit, site costs and permit fees is $220,000, and the company saves money by having housing built off site.
During the process, Abodu will come out and assess the property, handle permit requirements, build and install the completed unit with a giant crane. It takes about 12 to 14 weeks to complete the entire project process.
Vivian Liberti, who owns a home in the San Mateo Shoreview area and lives with her husband and toddler, decided to get an ADU because she plans to have extended family live with her and needed the extra space. She got the Abodu 1 in mid-January, and it took about one to two weeks to lay the foundation and hook up electricity, water and sewer. The housing unit arrived prebuilt on the back of the truck from factories in other states and was installed in the backyard. People cannot see the ADU from the front of the house, and she only has a park in the back.
"I love it. I think the design is very modern and goes with my personal aesthetic," Liberti said.
Abodu handled most of the street closure and use permits with the city, and she only had to appear at the courthouse to sign the documents. She looked at several companies before choosing Abodu because it was local and allowed her to walk through the unit beforehand. The unit also gives her options in future planning if her daughter decides to live there in college. She believes as San Mateo adjusts and becomes familiar with ADU units, more people on the Peninsula will get them.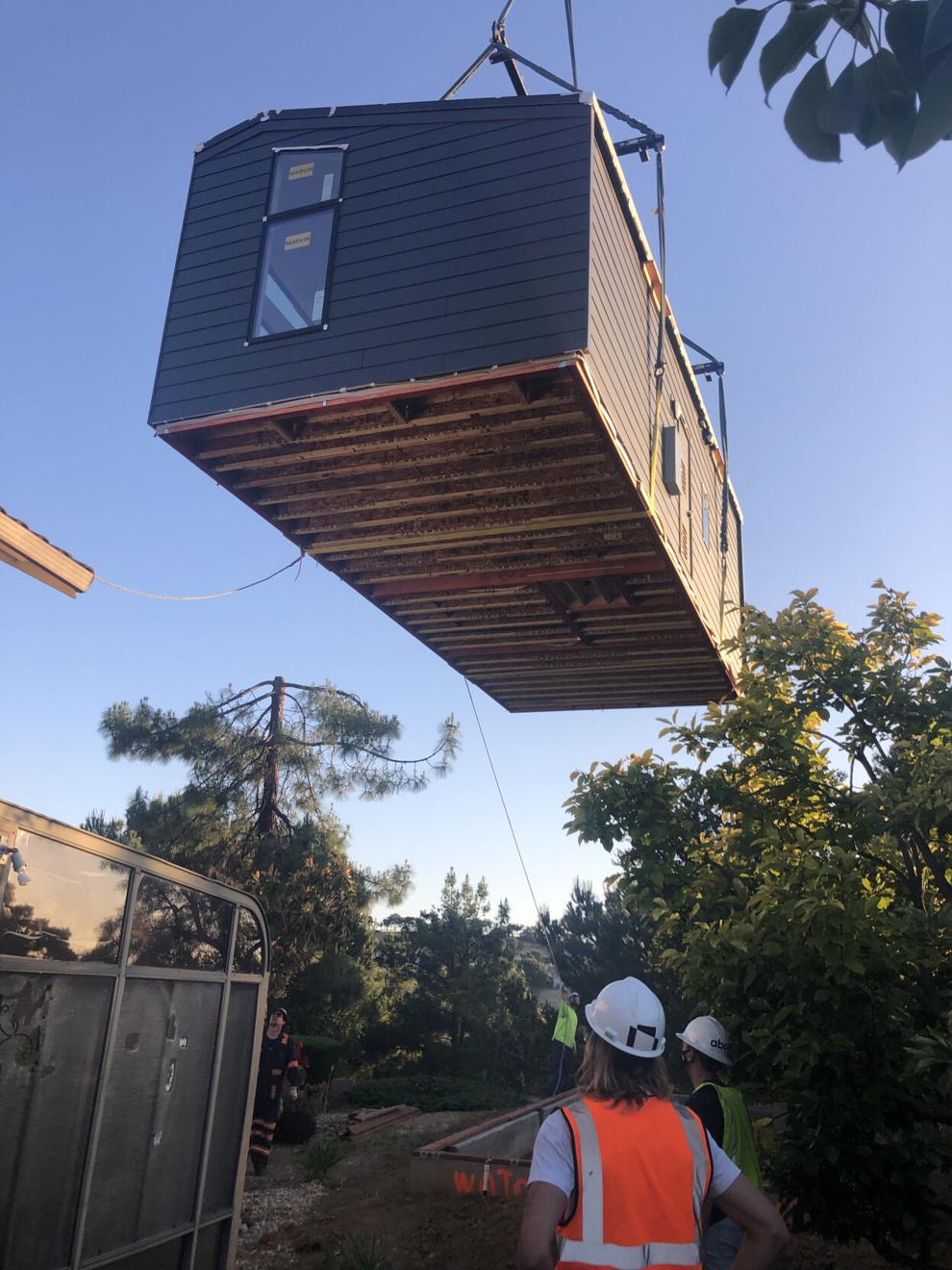 Value add for single-family homes
Geary said ADU housing units are something everyone has been able to agree on because single-family homeowners like the value it brings to their property, the city likes to add it to their housing unit density numbers, and it adds housing density without affecting the entire neighborhood and upsetting neighbors. He has seen support from both city councils and planning departments. ADUs can also increase the overall bedroom and bathroom numbers on the property, increasing property value.
"ADUs somehow have cemented themselves as housing typology that everyone can get behind," Geary said.
Benefit to regional housing requirements
San Mateo Mayor Eric Rodriguez agrees that ADUs are one of the few types of housing that have a consensus of being good for everyone. They are a way to lightly increase density in single-family neighborhoods without drastically altering them and increasing affordable housing supply without public subsidies.
He said ADUs could be used to meet the city's state-required housing unit numbers, called Regional Housing Needs Allocation, or RHNA. He believes it would be a positive number, but would not be significant enough to rely on it or use it as a strategy to meet housing unit requirements. He doesn't see the city restricting ADUs in any way.
"ADUs are a component of increasing our housing supply, but there is no way of relying on them alone," Rodriguez said.
Geary believes providing more housing access is essential for the long-term health of the Bay Area. He grew up in Cupertino learning about the housing industry, as his father was a single-family home developer who took him to city council and planning commission meetings.
"I think housing is such a necessary enabler in order to keep the Bay Area great. If we keep a cap on housing, we will limit the amount of new thinkers that come to this area and continue to change the world based on that," he said.
(650) 344-5200 ext. 102