The rash of hate directed at Asian Americans is not a case of history repeating itself but instead a problem that continuously plagues the nation, said historian and documentarian Holly Yasui.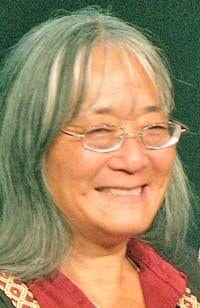 The daughter of civil rights leader Minoru Yasui spoke Tuesday, March 30, to students at Aragon High School in a virtual seminar during which she drew parallels between her family's experience during World War II and the nation's current political climate.
"Anti-Asian sentiment has been a throughline in American history," said Holly Yasui to the history class taught by William Colglazier.
Minoru Yasui fought the unconstitutionality of laws targeting Japanese-Americans during World War II, and volunteered to be arrested in Oregon for violating the curfew imposed on Japanese Americans following the bombing of Pearl Harbor, with an intent of settling the civil rights fight in court.
Holly Yasui documented her father's fight for equality in the film "Never Give Up: Minoru Yasui and the fight for justice," which was shown to students before she joined the virtual discussion.
Identifying similarities between the racism her father and his generation faced and the recent surge of unprovoked attacks targeting unsuspecting Asian victims, Holly Yasui said hate crimes are more common during periods of national unrest.
"Whenever there is a crisis in the country, where there is a war like World War II or the pandemic which has created economic and personal or social crisis, then people look for a scapegoat," Holly Yasui said.
As was the case with Minoru Yasui, who lost his first court case and faced a sentence of one year in prison and a $5,000 fine. During his incarceration, Yasui was held at the Japanese American internment staging center in Minidoka, Idaho. On a series of appeals his case reached the Supreme Court, which ruled against him and he remained imprisoned until 1944.
Upon his release, Yasui worked as a civil rights attorney and received recognition for his work in favor of communities whose rights were violated or underrepresented. More than three decades after his arrest, Yasui directed his focus working in favor of redress for Japanese Americans who were interned or held without justification
Holly Yasui's ability to link her father's oppression to issues in today's society resonated with Aragon High School junior Stephanie Fernandez.
"Something that really stuck with me was that she connected the treatment of Japanese Americans in the past, to the pandemic and to the amount of Asian hate crimes that have been occurring recently. I found this interesting because I had never thought about connecting the three," said Fernandez in an email.
Aragon High School student Cameron Leung shared a similar perspective.
"I usually feel distanced from the past, but Ms. Holly Yasui helped connect what happened in history to what's happening in the present," she said in an email, observing the similarities in treatment between Japanese Americans after World War II and Muslim countries following the terrorist attacks at the World Trade Center in 2001.
What's more, Fernandez said Holly Yasui's live testimony made the perspective more affecting — especially after a year of isolated learning from home.
"She spoke very passionately as she mentioned the topic so I felt that it appealed more to us because we were able to see her emotions which is something you also don't get in textbook readings," she said."
Reflecting on the aggressive policies targeting Asian Americans and racist propaganda designed to sway public opinion against Japanese residents in her father's generation, Holly Yasui said politicians today are responsible for the unsolicited violence.
Recognizing those who refer to COVID-19 as "the China virus" or other derogatory terms, Holly Yasui said government officials must be held accountable for establishing antisocial environments.
"That kind of rhetoric basically gives permission to people who are already confused and fearful to make that connection between Chinese Americans and by extension all Asian Americans because people are not distinguishing," she said.
Despite the unfavorable climate during his time, Minoru Yasui did not turn away from his fight. His efforts helped earn an apology and financial compensation for Japanese Americans from the government under former President Ronald Reagan.
He was also posthumously awarded the Presidential Medal of Freedom in 2015 by former President Barack Obama. And the legal case against him was overturned.
Applying the lessons her father taught her to the challenges ahead for future generations, Holly Yasui encouraged students to be bold and stand up for righteous causes.
"Speak your mind. When you see something wrong, say it is wrong. When you see something good, support it. Really it us to the young people today to create the country that this is going to be," she said.