If anxieties over the impending doom of the retail industry exist, they couldn't be sensed at Kepler's Books.
The independent bookstore long established on El Camino Real in Menlo Park hummed Monday, Dec. 23, with holiday shoppers wrapping up their gift buying by pulling colorful titles and spines from packed shelves hosting authors from across the globe.
"It's so energizing," said Aggie Zivaljevic, Kepler's book buyer for the better part of the last decade, looking onto the store's busy floor. "It's the best time to be in a room with people who love books. It's the most heart-warming experience. It's so rewarding."
And while countless bound pages were whisked away to soon be presented for readers of all ages across the Peninsula, CEO Praveen Madan acknowledged the booming business may have been hard to imagine not so long ago.
"We are in a much, better, stronger place than I think I was predicting back eight years ago," said Madan, who is also the board director of Kepler's Literary Foundation.
Once threatened by the meteoric rise of online book sellers and electronic materials, the store was forced to close in 2005 until it was saved by a last-minute injection of $1 million in community investments. In the aftermath, Madan pointed to a strategic shift as a critical moment of the store's life, which has spanned 65 years.
In 2012, Kepler's Books was re-established as a "social-purpose bookstore" designed to serve local needs. Madan said a key asset in achieving such an ambitious goal was creating the Kepler's Literary Foundation — the company's nonprofit arm which would operate community outreach.
Over time, the foundation matured to a platform for 150 community events per year, which included notable appearances by authors or celebrities such as Al Gore, Naomi Klein, Jerry Rice, Dave Barry and more.
The bookstore can accommodate up to 300 guests and, for bigger draws, events have been held at the roomier confines of the Fox Theatre in Redwood City, said foundation Executive Director Jean Forstner.
The foundation also established relationships with the Ravenswood Elementary School District, through which students in the financially-strapped system in East Palo Alto and the Belle Haven neighborhood can receive additional books and learning materials.
Forstner lauded the foundation's work as a vital component of the innovative business model adopted by the organization.
"When you think about what a bookstore provides to its community — it's a cultural hub, it's a place where people learn, we're trying to promote literacy — all those things have a very strong social mission. So … we were able to create this two-part structure, and it's gone well," she said.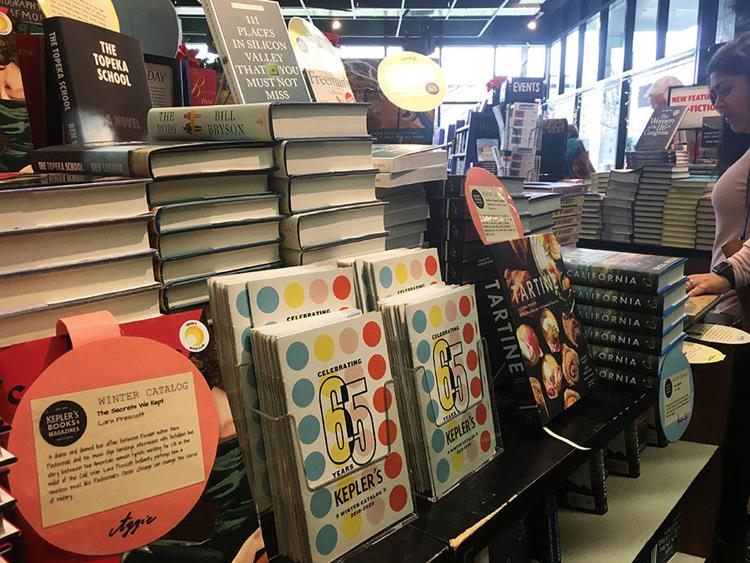 The pivot from a standard brick-and-mortar store to structure seeking to achieve more ambitious goals has also helped make Kepler's Books an employment destination for those seeking to get more out of their career, said Forstner.
"The wonderful thing about it is it also attracts staff, both book sellers and event managers, who really believe in that mission. So it does have more cohesion around being that place in the community," she said.
And while the contribution of like-minded locals helped sustain Kepler's Books, Madan noted there remain a variety of operational hurdles faced by most other county retailers struggling to keep pace with the rising cost of living.
To that end, he acknowledged paying a competitive salary for employees is still a challenge which executives must continue to address. Also noting the refinements needed to improve its entire operation, Forstner said she is focused on building the success of the foundation's vision.
"We feel like we still have things to learn and accomplish here," she said.
A priority issue in the immediate future will be fundraising for the nonprofit, which Madan acknowledged is not an inherent skill for the organization.
"It was not really in the DNA of the bookstore to raise money from the community," he said. "But as a nonprofit, that is something we need to get better at."
Forstner agreed, noting there are difficulties in helping the community understand the different goals of the store and foundation.
"There's many ways to be involved in the overall Kepler's mission and so having people think of it as an organization that they can be part of, that they can help sustain, we're heading down that road," she said.
Such a goal will likely prevent the company from looking to expand to other markets, said Madan. He balanced that perspective though by noting his willingness to share lessons learned through the company's transformation with others considering a similar maneuver.
"We get a lot of calls from all over the country, from bookstores, communities looking for new ideas and new models," he said.
Returning those calls this month may have become a little less of a priority for Madan, as the peak season for book sellers ramped up with the holiday crush. With a background in managerial consulting and software prior to joining the book industry, Madan said little could have prepared him for the feel of a bookstore at the peak of gift-buying season.
"It's intense. But it's also just high energy. It is just so addictive," he said.