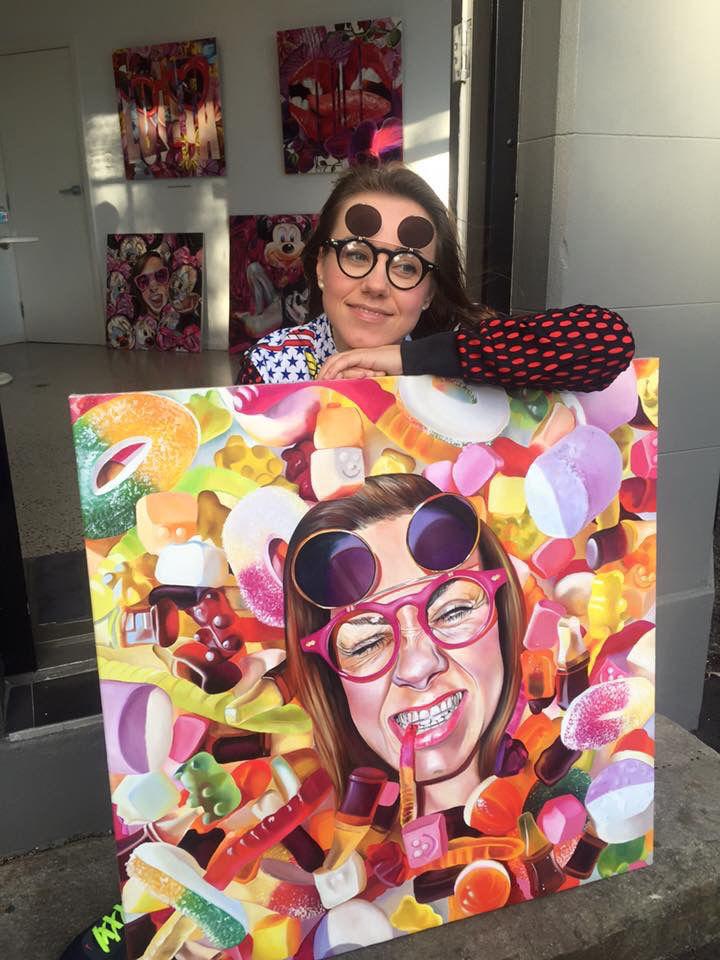 Growing up in Poland, artist Justyna Kisielewicz had a personal English tutor — MTV. 
Kisielewicz said she watched music videos on TV and would translate each word from the videos. That's how she learned to speak English. 
When it finally came time to learn English in school, her teachers dismissed her, saying she knew more than they did, Kisielewicz said. 
After fantasizing about the United States her whole life and communicating these fantasies through her art, Kisielewicz received an Einstein visa — a visa for people who are highly acclaimed in their field. She moved to Burlingame three years ago.
At first, Kisielewicz did not expect to have success with her paintings in the United States because most of her artwork centers on American pop culture, she described it as "bringing lumber to the forest." But after a successful show in San Francisco in 2015, the ball was rolling for Kisielewicz.
By posting her artwork on Instagram, Kisielewicz was able to book her first show in the United States. 
Since her show in 2015, Kisielewicz has been featured in 13 more exhibits throughout the United States. Her newest show is running until Sept. 7 at the Andra Norris Gallery in Burlingame. 
This show, titled "Optimism," features female artists and their individual take on optimism. 
A piece that will be featured at "Optimism" is two vases titled "Hidden Gems." These vases mark Kisielewicz's first time working with pottery and feature images of Lamborghinis and gilded 23 karat gold rims. Kisielewicz said this piece was inspired by Hillsborough and the wealth of the area. She said her perception of Hillsborough is that residents "feel guilty that they have all this wealth," so her piece comments on this impression. 
Some of her previous work includes a portrait of her pomeranian. The piece, titled "The Hunter," comments on the primal instincts of the animal, paired with the domestication of dogs in this day and age. At the feet of the dog are chew toys that depict the animals these dogs used to hunt. 
While each of Kisielewicz's pieces comment and take inspiration from various themes, all of her paintings include vibrant colors and extreme attention to detail. 
Kisielewicz explained that she sees optimism as not being "the circumstances that you're born into, but it is your actions that bring you somewhere. Optimism is nothing that is naive or childish."
When asked what drew Andra Norris to Kisielewicz, Norris responded, "she was very skilled, but she was also saying something that was very unique."
Norris added, "she has a very different take on optimism. ... She brings in a very young flavor plus her international point of view of where the world is right now is different." 
The Andra Norris Gallery is located at 1107 Burlingame Ave. Go to andranorrisgallery.com for more information.