FROM APPRENTICE TO SAN FRANCISCO CORPS DE BALLET: 18-YEAR-OLD MENLO PARK NATIVE JASMINE JIMISON LOOKS FORWARD TO A NEW YEAR AND NEW ADVENTURES. Menlo Park native Jasmine Jimison's position with the San Francisco Ballet was elevated radically in March of 2019 when its Artistic Director Helgi Tomasson promoted the then 17-year-old apprentice dancer to the corps de ballet. Jimison, now 18, is currently in rehearsal for the role of Juliet in "Romeo & Juliet," which the Company will stage in May.
DJ: What is your first memory of seeing ballet?
JJ: My first memory of seeing ballet is from a "Barbie and the Twelve Dancing Princesses" DVD that I loved dancing along to when I was little.
DJ: Where do you think your interest in ballet came from?
JJ: I had a gradually increasing interest in ballet through classes to supplement my competitive dance and figure skating. When I joined SF Ballet School, I was exposed to so many incredible dancers who inspired me to consider ballet as a career.
DJ: When did you begin dance classes?
JJ: I took classes off and on when I was 3 and began competitive dance when I was 6. I started focusing on ballet when I was about 10. There were so many teachers that helped me along the way, but the people that I spent the most time with were Kristine Elliott, Leyla Boissonade, Sarah-Jane Measor, and the teachers at San Francisco Ballet School. I'm extremely grateful to have had so many people put so much effort into and believe in me.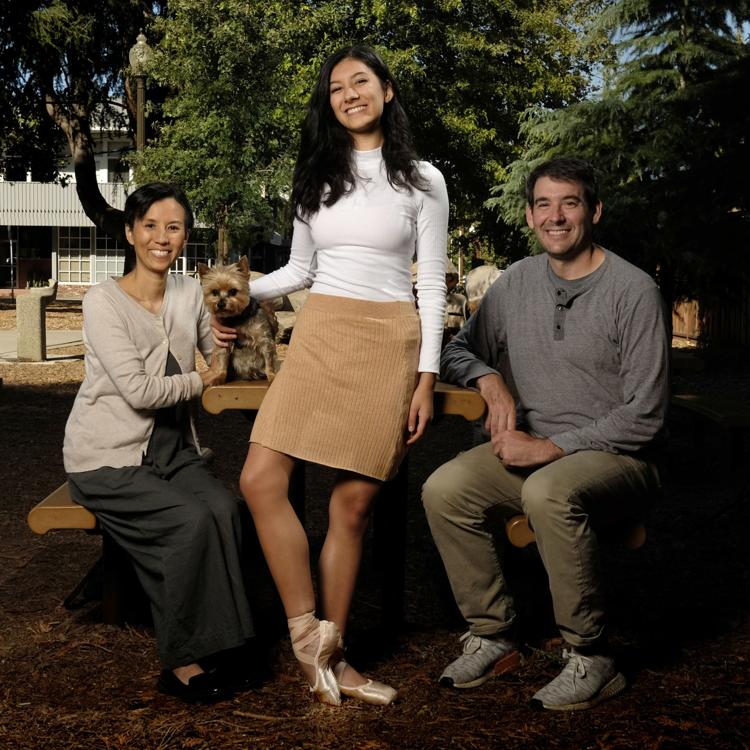 DJ: When you started to become serious about ballet, what was the best advice your parents gave you?
JJ: Keep a sincerely kind, gentle and happy heart because that is what you will dance with, and that is what people will see.
DJ: How do you arrange school attendance around your ballet activities?
JJ: Luckily, I had started earning high school credits when I was 12 at a private school and was able to graduate at 16 just before entering the company. Juggling ballet and high school as a trainee was a challenge since I danced from 9 a.m. to 4 p.m. (longer on show days). I did my schoolwork online as soon as I got back to the dorms until I went to bed and also spent my weekends doing homework. I had to skip performing in "The Nutcracker" one year because I had so much schoolwork to do. I am now taking a gap year before starting my college courses.
DJ: How did you feel when San Francisco Ballet's Artistic Director Helgi Tomasson promoted you to the corps de ballet last March?
JJ: When Helgi called me to his office in the middle of a performance of "The Sleeping Beauty," I was so nervous. When he told me that he wanted to start my corps contract right away, I couldn't believe it. I was so ecstatic, I smiled the rest of the day.
DJ: What are you looking forward to this coming season?
JJ: I've been rehearsing the role of Juliet and am really looking forward to dancing that in particular. It's a dream role of mine, so actually getting to perform it would be absolutely amazing.
DJ: What is your favorite "off duty" music?
JJ: I listen to pretty much all genres of music, but I really love older artists such as Elton John, The Beatles and Queen. I also like Jason Mraz.
DJ: What movie about ballet gets it right?
JJ: "Billy Elliot" is a somewhat accurate although dramatized depiction of the challenges and stigma that many ballet boys have to face. I also find that the boys who do ballet genuinely love what they do and are driven by an intense passion for dance just like "Billy Elliot."
DJ: What would you say to a young person who has never seen a performance of San Francisco Ballet at the War Memorial Opera House?
JJ: If you want to see company with diversity and passion, come watch San Francisco Ballet. We represent what ballet should represent. Dance is humanity, and humanity comes in all sizes, shapes and colors.
SAN FRANCISCO BALLET PARTICULARS: San Francisco Ballet performs at the 1932 War Memorial Opera House, 301 Van Ness Ave. in San Francisco. For information and tickets visit www.sfballet.org.
Susan Cohn is a member of the American Theatre Critics Association and the San Francisco Bay Area Theatre Critics Circle. She may be reached at susan@smdailyjournal.com.