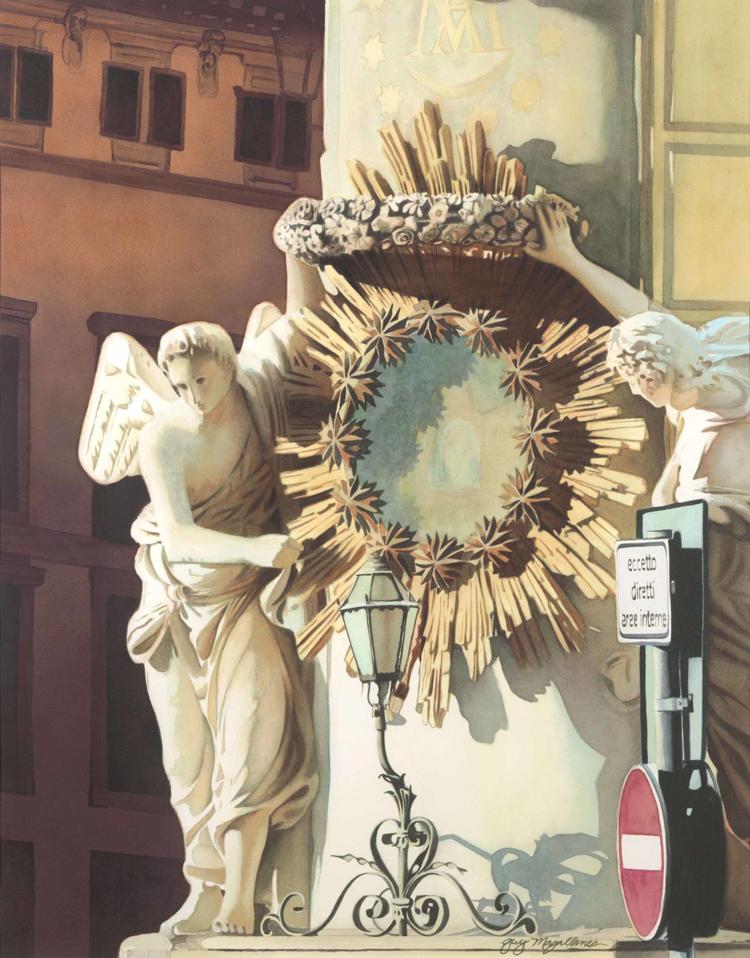 GUY MAGALLANES WINS SOCIETY OF WESTERN ARTISTS BEST IN SHOW. The Society of Western Artists 69th Annual Show awarded Best of Show to Guy Magallanes for his watercolor "Roma Madonella." Judges were artists Dmitry Grudsky, Terri Ford and Linda Harris. The Portrait Award went to Arena Shawn for her Charcoal "True Grit." The water media awards First Place went to Jane Hofstetter for her "Coastal View," Second Place to Carrie Drilling her "Epiphyllum Beauty," and Third Place to Shirley Green for her "Twists and Turns." First Place Oil/Acrylic award went to Henri for her acrylic "All I Have to Say," and Second Place to Romeo Washington for his oil "Torita." In the Pastel-Mixed Media category, First Place was given to John Barrows for his mixed media "Professor Flockmocker," Second Place to Gerald Boyd for his pastel "Homage to King Cuong," and Third Place to Deepali Kapatkar for her pastel "Reflections." First Place for Non-Representational art was Marilyn Torchin's watercolor "Send in the Clowns" and the People's Choice award from the last show was "Happy African Boy" oil by Rema Mansi. Other show participants are Edna Acri, Trowzers Akimbo, Tomiko Bailey, Lynn Flodin, Stephanie Getzler, Jim Gleeson SWA, Sharon Slusarz Harris, Ron Jarvi Joyce Barron Leopardo, Diane Liguori, Rema Mansi, Leona Moriarty, Rose Nieponice, Christine Ong-Dijcks, William Ramroth, Arena Shawn, Deborah Shea, Fran Simontacchi and Sherry Vockel. The Society of Western Artists Galley at 527 San Mateo Ave. in San Bruno is open 11 a.m. to 3 p.m. Wednesday through Saturday. A reception to meet the artists is scheduled 1 p.m. to 3 p.m. June 22. There will be an awards reception 1 p.m. to 2:30 p.m. Aug. 4.
"LEARNING TO FLY": OWL PHOTOGRAPHS BY LARRY CALOF, AT PORTOLA ART GALLERY IN MENLO PARK. The Portola Art Gallery presents "Learning to Fly," a collection of photographic images of various species of owls, including "Snowy Owls," as well as other birds by Larry Calof of Atherton. The exhibit features images printed on canvas, aluminum and traditional archival paper. A reception for the artist will be held 1 p.m. to 4 p.m. June 15. Portola Art Gallery is located within Allied Arts Guild, 75 Arbor Road, Menlo Park. For more information visit www.portolaartgallery.com or call 321-0220.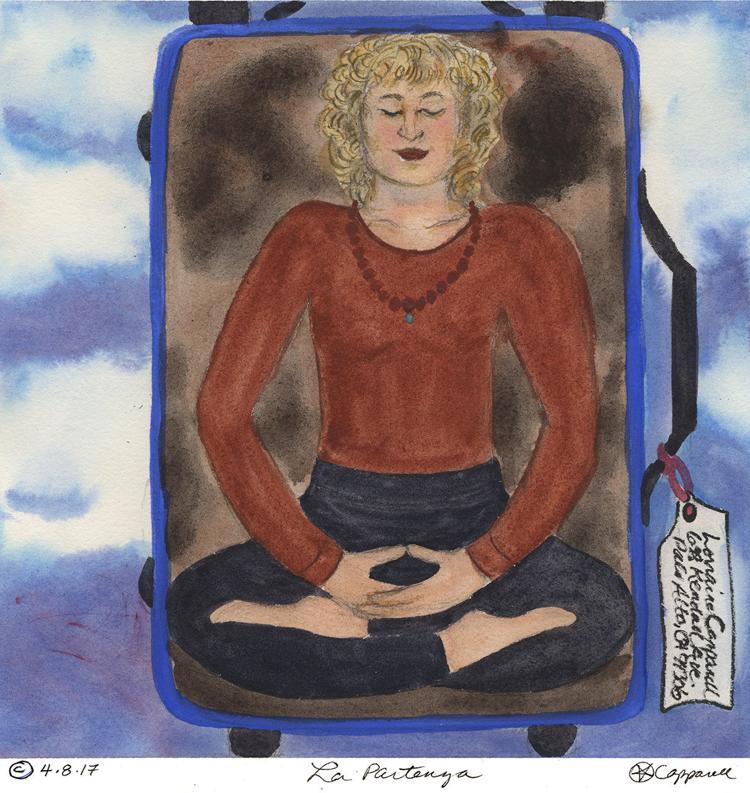 WOMEN'S CAUCUS FOR THE ARTS VISITS "MY HAPPY PLACE," AT THE PALO ALTO ART CENTER. Let's examine the places that art can take us. It can be a color, an experience, an imaginary place, memory of a place, a place in our dreams, or a real one. In "My Happy Place," the members of the Peninsula Chapter of Women's Caucus for the Arts create the world they try to enjoy and encourage others to join. Participating artists are Lorraine Capparell; Amy Clark; Sherri Hanna; Xuan Ho; Marilynn J Host; Kristine Idarius; Rebecca Lambing; Tanya Lin; B Momar; Denise Natanson Marcus; Yvonne Newhouse; Maria Schechter; Rachel Tirosh; Annette Wagner; Greta Waterman; Ruth Waters; Emily Wiser; and MarianYap. This exhibition will be on view June 1-28, at the Palo Alto Art Center, 1313 Newell Road in Palo Alto.
THE LAND OF OPPORTUNITY: SAN MATEO COUNTY HISTORY MUSEUM CELEBRATES JUNE 29 RE-OPENING OF PERMANENT GALLERY IN REDWOOD CITY. The San Mateo County History Museum announces the reopening of its permanent exhibit gallery, "Land of Opportunity: The Immigrant Experience in San Mateo County." The gallery has undergone an extensive renovation and will open to the public at noon June 29 with a public celebration that will last until 3:30 p.m. This unveiling will be a free event which will feature family friendly activities and refreshments. New components of the gallery will include stories about the migration of people from other states – not just other countries. This enables the museum to include African American accounts from the Great Migration, which took place between World War I and 1970. A new computer kiosk entitled "Tell Us Your Story" will allow all visitors to the museum the opportunity to add their own family's experience about coming to California to the exhibition. The San Mateo County History Museum is located at 2200 Broadway, within the 109-year-old "Old Courthouse" in Redwood City. For more information visit www.historysmc.org or call 299-0104.