SOCIETY OF WEST-COAST ARTISTS CURRENT CONTEMPORARY EXHIBIT GIVES FIRST PLACE AWARD TO BILL RAMROTH. The current Society of West-Coast Artists Contemporary Exhibit, judged by Catherine Streets Delfs, Deepali Kapatka and Yvonne Newhouse, gave its First Place award to Bill Ramroth for his oil "Along 97 North of Klamath Falls," second place to Tony Pepito for his watercolor "Along Broadway" and third place to Deborah Shea for her pastel "Fall Riot." The two exceptional honorable mentions went to Denise McGill's collage "Care for the Children" and Jesus Sepulveda's oil "Moody Room." In the nonrepresentational category, the First Place award went to Marilyn Torchin for "Trekking." The People's Choice award from the August/September 2020 show was Bill Ramroth's oil "Katie the Waterhorse Sorceress." Other show participants are Barbara Alger, Martha Bredwell, Pat Casteel, Joe Crosetti, Anneliese Drbal, Carrie Drilling, Maxine Fargason, Stephanie Getzler, Shelley Goodman, Sharon Slusarz Harris, Nicole Joshi, David B. McClure, Camilla Roos, Helen Scheel, Fran Simontacchi and Jitendra Tandel. The show runs through Dec. 12 at the Society of West-Coast Artists Fine Art Center, 527 San Mateo Ave., San Bruno. The Center is open Wednesday through Saturday from 11 a.m. to 3 p.m. For more information visit www.societyofwest-coastartists.com.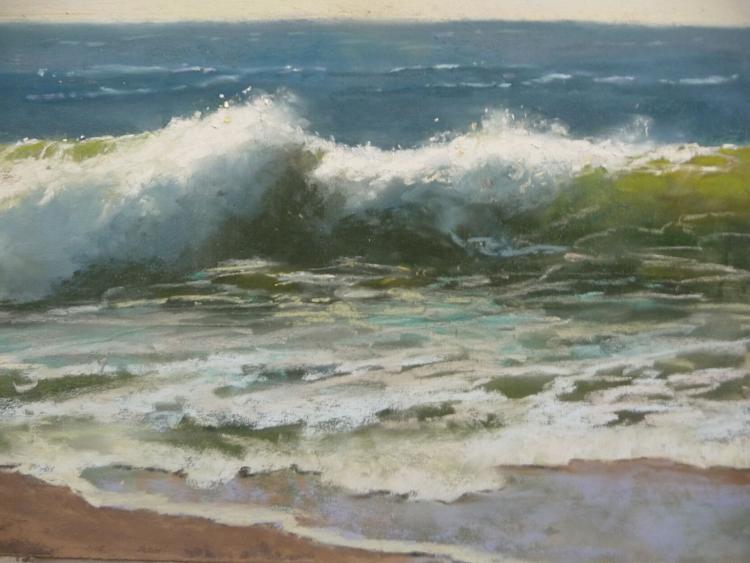 PORTOLA ART GALLERY IN MENLO PARK PRESENTS JAN PRISCO'S "CALIFORNIA BEAUTY." Known for her paintings of California scenes, San Mateo Artist Jan Prisco paints subjects that range from the oak covered hills of the San Francisco Peninsula, to the flower fields of Half Moon Bay, to vistas of Pescadero, Monterey and Big Sur. In December, Portola Art Gallery presents "California Beauty" — a selection of Prisco's pastel paintings. Portola Art Gallery is located at the Historic Allied Arts Guild, 75 Arbor Road in Menlo Park. While there will be no formal reception due to COVID-19 safety precautions, the artist will be at the gallery on Dec. 12, 17 and 18, as well as by appointment. For more information visit http://www.portolaartgallery.com/
HOLIDAY CRAFTS AND HANDBELLS WITH THE SAN MATEO COUNTY HISTORY MUSEUM. The San Mateo County History Museum in Redwood City will post its traditional holiday activities online this year. Beginning Dec. 5, the public can go to https:/historysmc.org/holiday-traditions for two programs, craft activities for children and a handbell concert for the whole family. Since the Gold Rush, immigrants have come to California from countries around the world. When they came, they brought with them customs from their homelands. The History Museum will honor these customs by offering craft activities that explore some of the holiday traditions that immigrants brought with them to the Peninsula. Instructions, material lists and templates will be posted to make these crafts: Cracker and Paper Crown; Kwanzaa Kinara; Hagoita Paddle; and Bird Rattle. One of the holiday traditions at the San Mateo County History Museum is for the San Francisco State University Handbell Choir to ring in the holidays with a concert. Formed in 1997, the handbell choir rings on fie octaves of Schulmerich handbells and four octaves of hand chimes. Caroline Harnly is the group's founder and current director. Due to COVID-19, the group cannot come together to perform. However, they are sharing a previously recorded holiday concert. It will be available on the San Mateo County Historical Association website starting on Dec. 5. Among the songs performed are Bring a Torch, Jeanette Isabella, Parade of the Tin Soldiers and Let it Snow! The concert is part of the museum's online Courthouse Docket series sponsored by Cypress Lawn Heritage Foundation.