Sculptor Ken Hiratsuka started his career as a graffiti artist, now he has done pieces in 21 countries, including in Australia, China and Japan.
The most recent piece he completed, however, is at the Hillsdale Shopping Center.
The piece for the Hillsdale Shopping Center is located in the North Block, the section currently under construction which will also be home to a movie theater and new restaurants.
Hiratsuka's piece is comprised of multiple boulders and benches with one continuous line throughout, uniting the pieces. The line carves through the rocks, using both sides of the line to create different images.
The images, Hiratsuka explained, are inspired by the Bay Area and bringing together the community. He hopes that families can come, look at his work and point out all of the images they see to each other.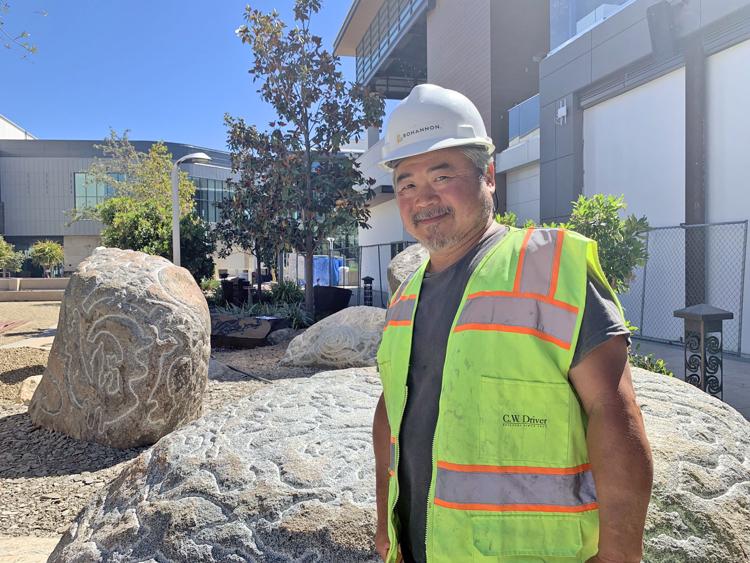 "His art is all about unification, and we really want the North Block to be that way. A place for the community to come and spend their time," said Hillsdale spokeswoman Elaine Joseph.
Hiratsuka explained carving the rocks as a puzzle. While he plans the images he wants to include the curvatures of the rocks often speak to him and tell him what to carve where.
The boulders Hiratsuka chose for the piece are California local stones, a lot of them being from the Sierras, said Janice Fetzer, of Bohannon Development Co., which owns the shopping center.
Some of these images include the Golden Gate Bridge, redwood trees, crabs and a spaceship. Hiratsuka explained that he loves the idea of space and other beings living in the universe.
"Earth is one big stone, floating in the universe," Hiratsuka said.
While no specific date has been set yet, the planners hope to have a community unveiling of Hiratsuka's work near the end of the year.