A funk band comprised of San Mateo County natives is gaining traction.
After releasing its debut EP, touring throughout the West Coast and growing its Spotify audience exponentially in 2019, the group called More Fatter is set to release its first music video Jan. 10. Entitled "Yeah You," the video was shot in a single take in San Francisco's Dolores Park and can be found on YouTube.
"We see the video as a way of celebrating our Bay Area roots and the creativity of the Bay," said Márk Fédronic, who sings and plays trombone in the band. "The song signifies celebration and living life to the fullest degree with exuberance and a sense of freedom, which is what we try to inspire."
Fédronic, who grew up in Belmont, founded the band in 2016 with his best friend and guitarist/singer Tommy Economou, a Hillsborough native, and brother Théo Fédronic, who handles trumpet, keys and vocals. Bassist Gustaf Claesson, who also grew up in Belmont, and drummer Anthony Puducay, a South San Francisco native, later joined the band. The five are graduates of Carlmont, Burlingame and El Camino high schools and were members of the jazz programs there.
While the band was formed roughly four years ago, Márk Fédronic and Economou have been planning to do so since the age of 9 when they were members of the Ragazzi Boys Chorus in Redwood City.
"We met there as little guys, bonded over Beatles songs, which we sang all the time, and always dreamed about forming a band eventually," Márk Fédronic said.
He described More Fatter's sound as a mixture of funk, indie rock and pop with a heavy emphasis on harmonies. "We used to describe ourselves as choir boy funk," he added.
The name More Fatter was conceived accidentally during practice one day — in funk and jazz lingo, "fat" means groovy, hip or tasteful, Márk Fédronic explained — and stuck.
"As time has gone on, we've actually really embraced the name as an essential part our of band and as meaning more than just "fatter" in a musical sense," he said. "To us 'more fatter' means celebrating the gift of life and people around us to the fullest extent possible. It means building a colorful, honest and passionate community around the world."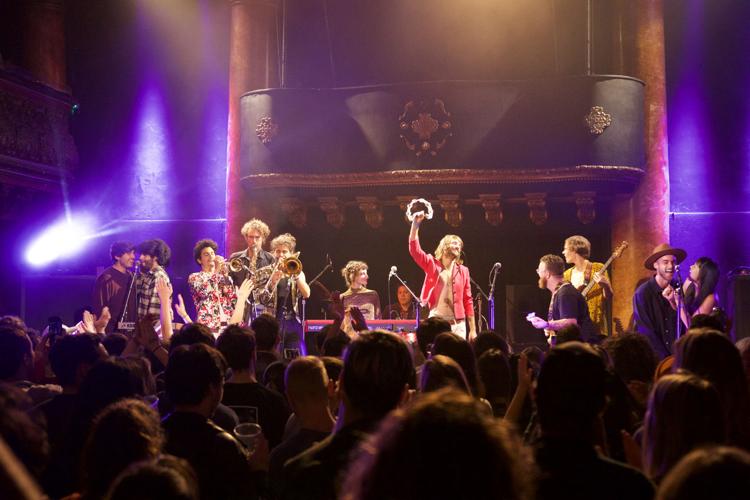 The band played its first show in 2016 at El Rio, a dive bar in San Francisco's Mission District, and has since performed at storied venues including the Great American Music Hall and The Independent. In San Mateo County, the band has played Club Fox in Redwood City and has performed multiple times at the Save the Music festival in Belmont, a fundraiser for music programs in local schools.
More Fatter completed its first album in 2017 but, after polishing its sound considerably since then, the band is describing the EP it released last year called "Fatterludes," as its debut album. "Yeah You" is one of the singles.
Márk Fédronic described the single, which was produced by Michael Starita, who has worked with legends including A Tribe Called Quest and Childish Gambino, among others, as a turning point for the band.
"It was the first song that went beyond our Bay Area fan base," Márk Fédronic said. "People listened to it around the world."
The EP, which can be found on all major streaming platforms, was streamed more than 500,000 times on Spotify, bringing the band's total streams on that site from 20,000 to 700,000 since it was released.
"It's been a big year for us," Márk Fédronic said.
Several months ago, the band moved to Los Angeles to break into the music scene there.
"We're all Bay Area kids and we love the Bay, but we left for L.A. to challenge ourselves and be part of a more dynamic creative energy," Márk Fédronic said.
This year, the band plans to release a new song on the 24th day of each month that, by the end of 2020, will amount to a 12-song album.
"It's an ambitious goal, but we're going for it. We're excited," Márk Fédronic said. "This year we decided to go all in on the band."